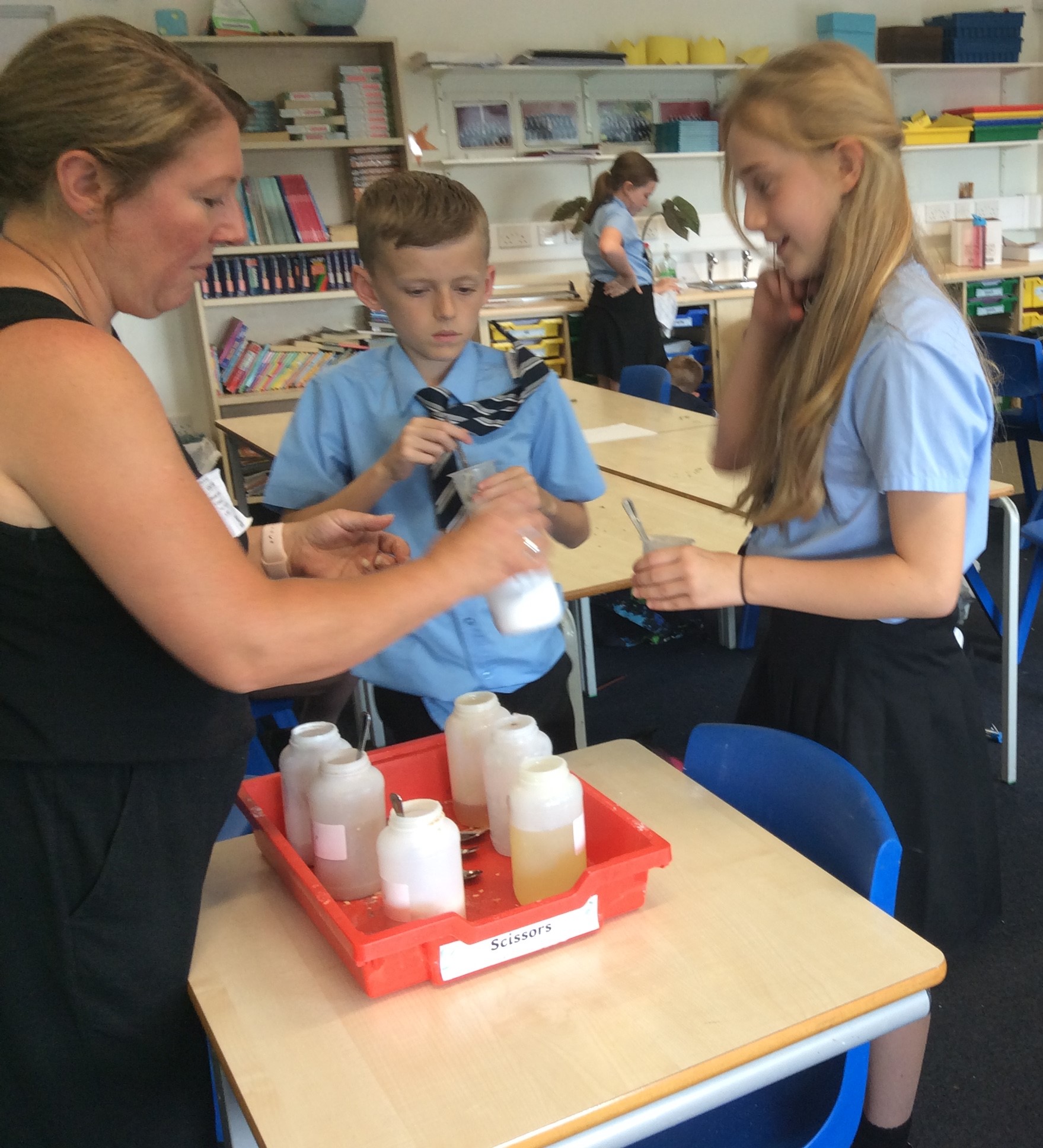 On Thursday 29th June, Year 5 welcomed National Rail into their classroom for an hour STEM workshop called "Leaves on the line".  Pupils were challenged to think about solutions to when leaves reduce the railway services.
One pupil from 5JB said "I enjoyed mixing the liquids and solids to make a new gel to stop leaves getting on the railway line".
The pupils worked brilliantly in teams applying their knowledge of Science (electrical conductivity) and represented the school perfectly (demonstrating the Parkside Standard).
STEM Works KNEX Challenge
On Thursday 15th Amilie-Lou and Kiean represented Parkside at the STEM works, Primary Maths Challenge Final. They demonstrated exemplary behaviour, teamwork and resilience.  Although they didn't win the overall competition they did incredibly well to get in to the final, out of 3,000 pupils who took part across schools in Worcestershire!
On the day, they had to build a model robot out of Knex, that would be used to transport packages around a factory.  The design criteria stated the model had to fit onto a A3 piece of paper and include mechanisms (such as pulleys and levers).
Whilst the models were being judged, Amilie-Lou and Kiean got to visit the Mazak factory to watch real life robots create, design and build. It was a very enjoyable day and the pupils were brilliant.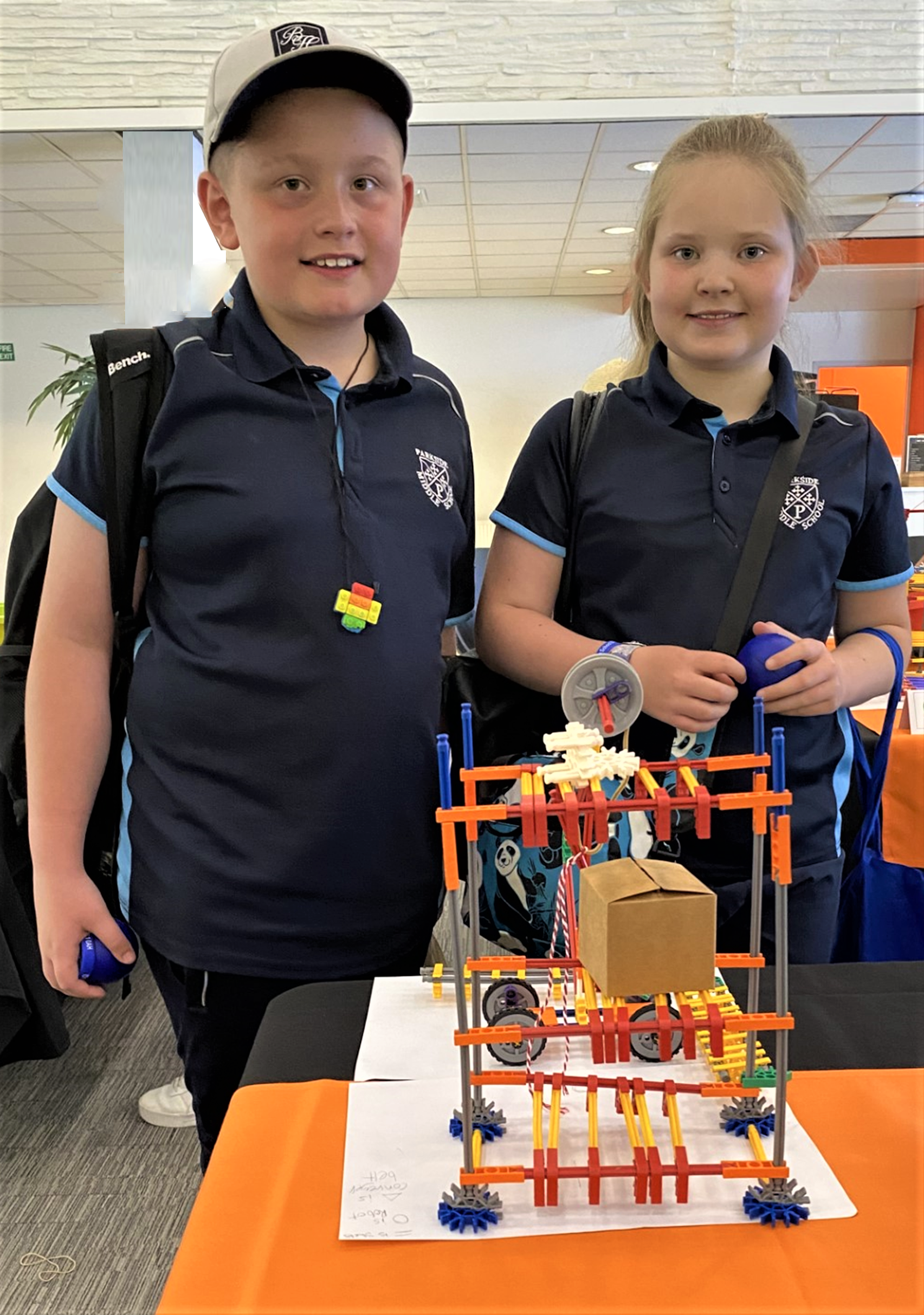 Architectural drawing workshop, featuring Artist: Jeanette Barnes.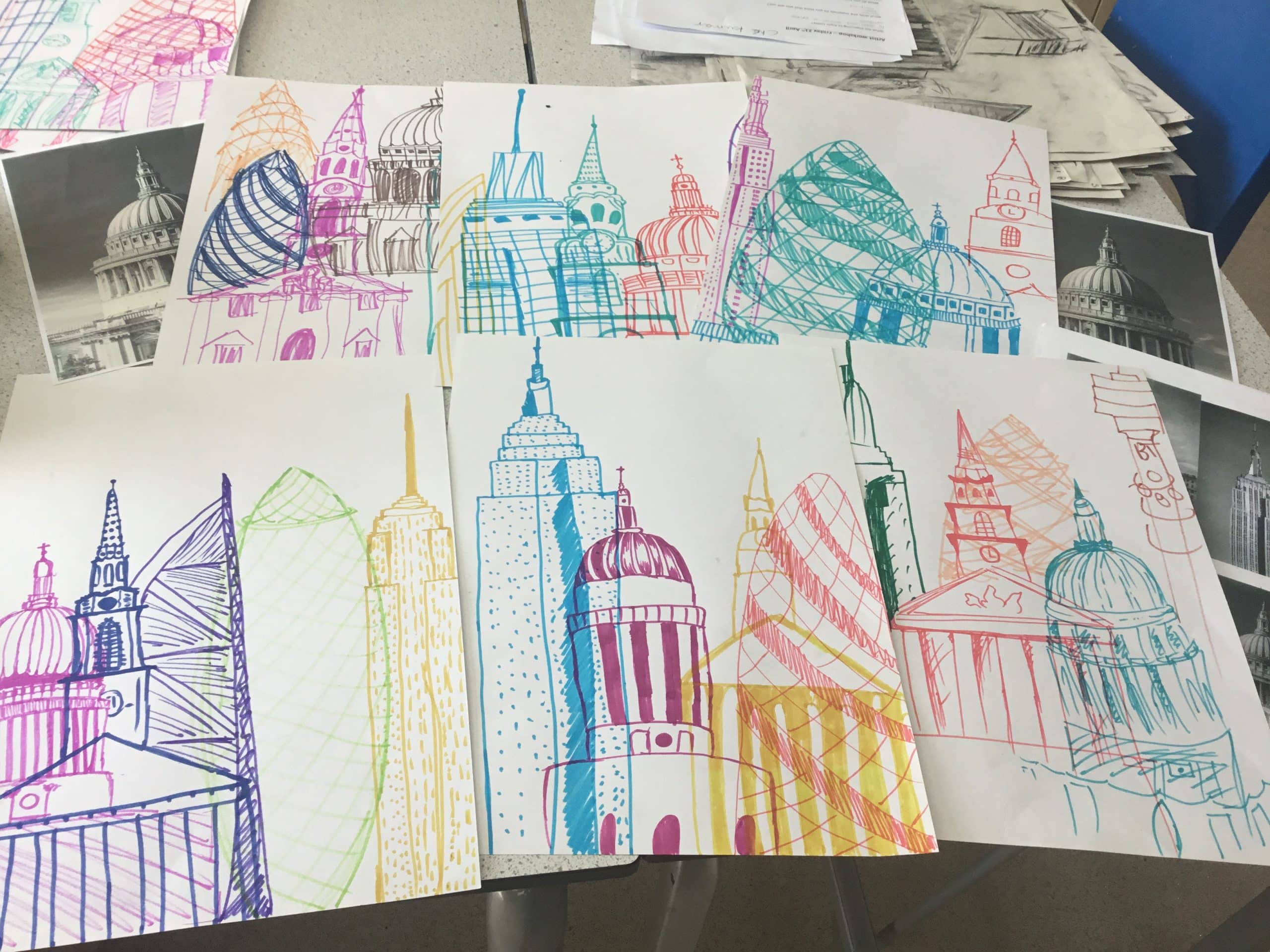 On Friday 21st April some select pupils from KS3 had the pleasure of working with visiting architectural artist, Jeanette Barnes.
The pupils focused on architectural drawings using charcoal and other media to capture famous landmarks. They also had the opportunity to think architecturally, considering and creating interesting yet practical architectural sculptures.
The pupils were inspired and commented on how memorable the experience had been.
STEM Works KNEX Challenge
Once again, we had the pleasure of welcoming Sarah into our school for the STEM works KNEX challenge.  Pupils were given the task to create a robot which had the ability to sort items within their model factory.  Their model had to include a robot, a set of shelves and parcels. All the pupils represented the school with excellent attitude, conduct and used resilience to complete the task. They presented confidently to the group and could answer question about the relevant parts of their design.  The pupils who were selected as the Parkside winners will go on to the final to represent our school in June.

Well done our latest cohort of fully graduated Police Cadets. They have worked superbly for 6 weeks with PC Nash understanding basic forensics, Police communication and some of the basic Police processes used to solve crime and keep the public safe.
We look forward to starting with the next group of year 5 pupils after half term.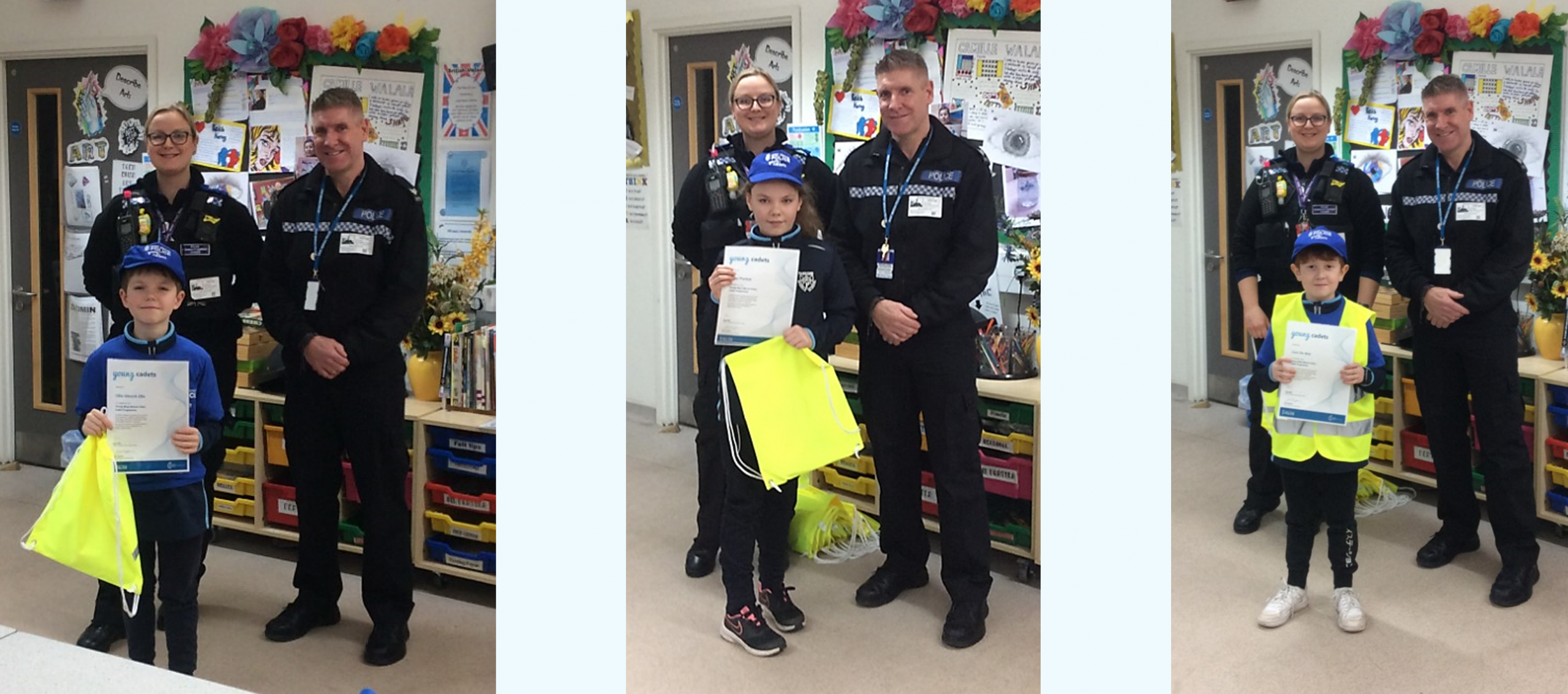 On Monday, 13th February, Parkside welcomed decathlete Matt Lee to school for an inspirational day of fitness circuits, wellbeing and fundraising. Our fantastic Sports Leaders supported Matt in organising a challenging, timed fitness circuit, with every pupil in the school taking part. Our pupils had 5 stations of activities - burpees, leg drives, half or full press-ups, tricep dips and star jumps. Pupils had to complete as many as they could at each station, with Matt circulating, encouraging and joining them in their efforts. Pupils had to show the Parkside Values of Teamwork and Resilience in order to complete the circuit.
This was followed by an inspirational assembly, where Matt Lee shared his story about his life as professional athlete. He talked openly about some of the challenges he faced in school and how sport was his area to thrive. He talked of his time at Aston Villa football academy and the reasons why he transitioned to athletics and the decathlon. He demonstrated some of his sports, and impressed the pupils with how far and high he can jump! He finished his assembly with a question and answer session, where our pupils asked a range of interesting questions.
Matt commented on the exemplary attitude and efforts of all of our pupils - he was impressed with their behaviour, but also their resilience during the circuits. He also commented that our Sports Leaders are some of the best he had ever seen!
We would like to say a huge thank you to our parents, carers and families for the wonderful support that you've shown in the fundraising. We raised a phenomenal £3639 for our school fund and are very proud of all of our pupils for their effort on the day. We hope that they enjoyed the experience.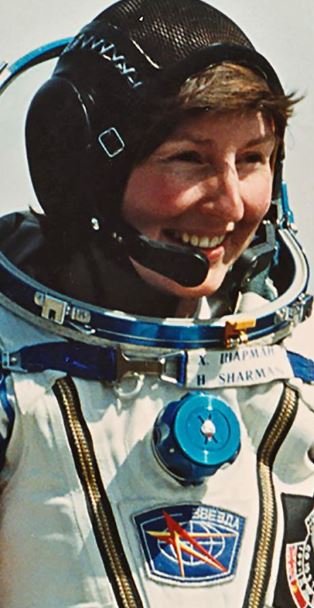 On Thursday 2nd February, Year 5 had the pleasure of meeting Helen Sharman (the first British astronaut) during a virtual question and answer session. Prior to the event, the pupils were given the opportunity to submit questions which were addressed throughout the exciting live lesson. This activity links to their current Science topic "The Earth and Beyond".
Freddie commented, "I like how it answered all our questions and encouraged children to go to space."
Tyler said, "It was fascinating and encouraged under 18s to go to space."
Josh recalled he, "liked the quotes that the astronauts shared to 'believe in yourself' and 'try your hardest at all you do'.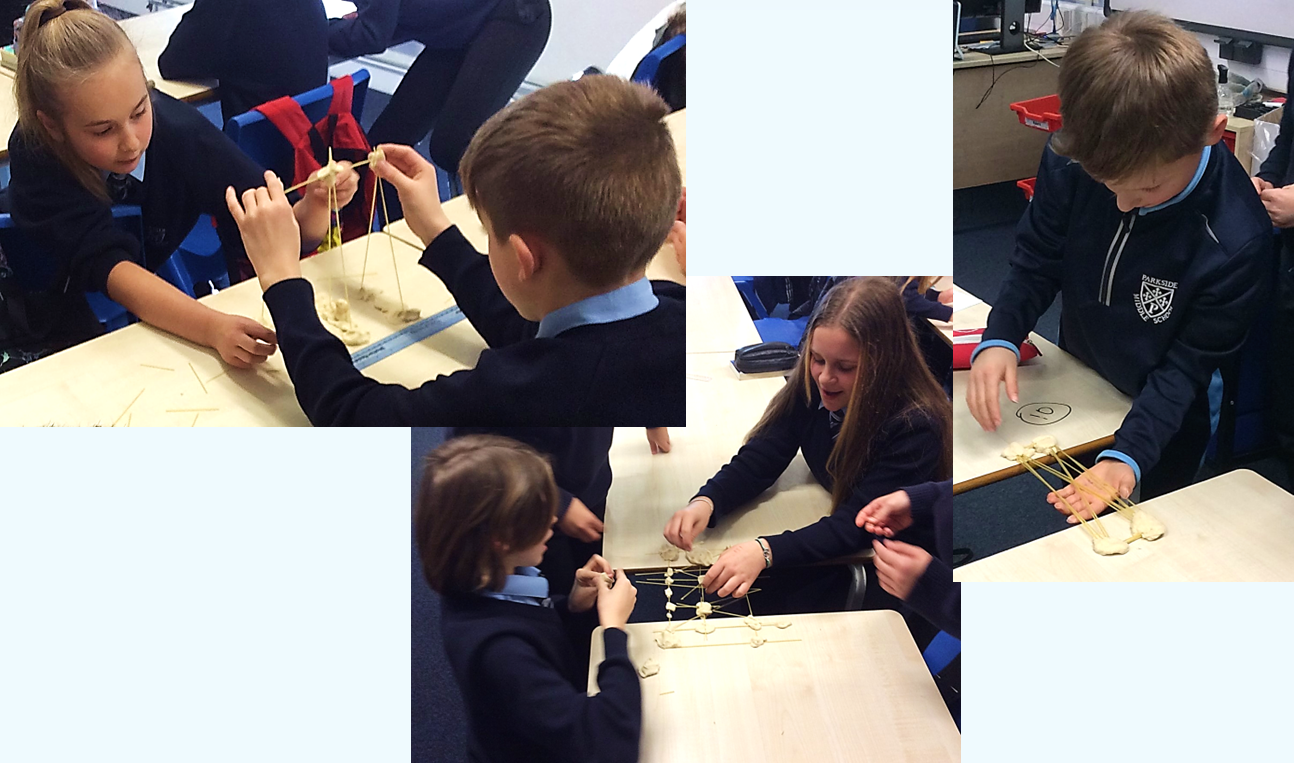 On Tuesday 16th January 2023, to recognise Kids' Inventors Day, Year 6 took part in an inventor's challenge.  They were given play dough and spaghetti and set the challenge to create a free-standing structure or a bridge.  They had limited time and resources. All pupils demonstrated excellent resilience to achieve the task.

On Thursday 19th January, a group of 34 year 8 pupils took part in the Faraday challenge. This is an annual competition that introduces students to engineering, inspires them to consider engineering as a career and helps to develop their practical and employability skills, including team working, problem solving and creative thinking. All teams worked tirelessly all day to come up with a ground-breaking innovation. When it came to the judging, there was only one point that separated the winners from the runner up. A huge well done to the winners Alfie J, Alfie O, Jackson, Charlie R, Charlie W and Harry as project manager.
All of the children were a credit to our school.
Trip to Birmingham Think Tank

On Friday 13th January all our year 8s visited the Birmingham Think Tank Museum.
Children got to explore the award-winning science museum and even managed to experience interactive Science shows. The children relished the opportunity to explore the vast number of galleries and historical artefacts, modern interactives and fantastic futuristic facts. The whole of year 8 represented Parkside beautifully and we look forward to taking them on their next trip soon.

On Thursday 3rd March, all pupils watched an assembly delivered by the Medical Mavericks. During the assembly, pupils volunteer to demonstrate the use of a range of medical equipment (such as an infra-red vein scanner, an electro cardio graph and an ophthalmoscope).
Throughout the assembly, pupils were informed of NHS career pathways (including a vascular scientist, a medical engineer and a cardiac physiologist) and routes into those careers. The pupils were very enthusiastic and engaged throughout the assembly.
One year 5 pupil said "I enjoyed finding out about the different jobs in the NHS that weren't medical".
Whilst another pupil reported "I liked seeing the different medical equipment and seeing what they do".